New Drupal module published
Submitted by root on Wed, 2010-03-17 00:17
in
Image: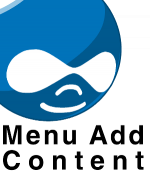 Servit developed a new Drupal module "Menu Add Content" and published it under GPL license for free use.
We are happy to contribute back to the community and hope that it will help others building better websites.
The module makes it possible that editors can create new content directly from the menu of the website. A new menu item will be created for the new content at the place where the editor clicked on "add content" in the menu.
More information can be found on the download page of the module.
last edited: 14-08-2011