Servit is exhibiting at CeBIT 2012
Submitted by root on Sun, 2012-03-04 12:03
in
Image: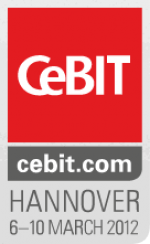 Servit is exhibiting at CeBIT 2012 from Tuesday, March 6 until Saturday, March 10 in Hanover. CeBIT is the world's largest and most international computer expo.
Come and visit us in the Open Source Park
(Hall 2, Block D58 Booth 168)!
Visitors will be able to play our donkey game and win a prize. More details will follow...
last edited: 06-03-2012