Postlet
Submitted by root on Sat, 2009-02-07 17:11
Image: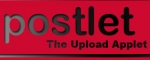 Ever wanted to upload a complete folder with dozens of photos trough a website form?
Got tired of the simple form allowing you to upload only one file after the other?
Postlet is the solution for you! — At least if you are building the website.
Postlet can be integrated in a website and replace the standard file upload fiels. The Java Applet allow your website users to easily upload a bunch of files or even complete folders. This is especially very handy for image galleries.
Additionally it allows you to define automatic resizing of uploaded pictures before they are uploaded. That way you save server resources and your users time.
Postlet can be integrated as a Java Applet in any website. On the Postlet website you will find as well server scripts to handle file upload and storage on the server. Scripts are available in PHP, Coldfusion, C# ASP.NET and as a Java Servlet.
Furthermore there are integrations in existing Content Management Systems available. Check out the links below.
last edited: 18-03-2010