eGroupware
Submitted by root on Mon, 2009-02-02 11:33
in
Image: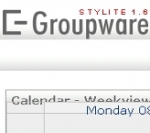 EGroupware is a fully featured, enterprise ready groupware software. It enables you to manage contacts, appointments, tasks and much more for your whole business. Like other groupware systems it contains a fully featured email client so all your team or company members can access emails from within the system.
EGroupware is open source, based on PHP and can be run on a web server. To access and use it only a normal browser is needed.
While other systems only work with specific email servers (MTA, POP, IMAP, etc) or are themselves an email server, EGroupware integrates with any existing IMAP mail server. So you can have a working email server, install EGroupware on any web server and it will do fine. As it can be accessed from everywhere with a browser it is optimal for geographically dispersed teams and organizations.
EGroupware bundles a lot of applications. Actually it can be quite bloated if you set up all applications, so it makes sense to only activate the applications needed.
Some of the outstanding and for groupware systems not so usual applications are:
Project Management (with GANT Diagram)
Task Management
Reporting (Time Sheets)
Knowledge Database
Issue Tracker which can be integrated into a public website so your client can file issues.
Wiki
Web Content Management System (altough quite basic)
We ourself use eGroupware and it has become a very important tool to manage and organize the team, as well as to build and transfer knowledge.
last edited: 18-03-2010